Short summary of the Geothermal-DHC 2022 Summer School
29/03/2023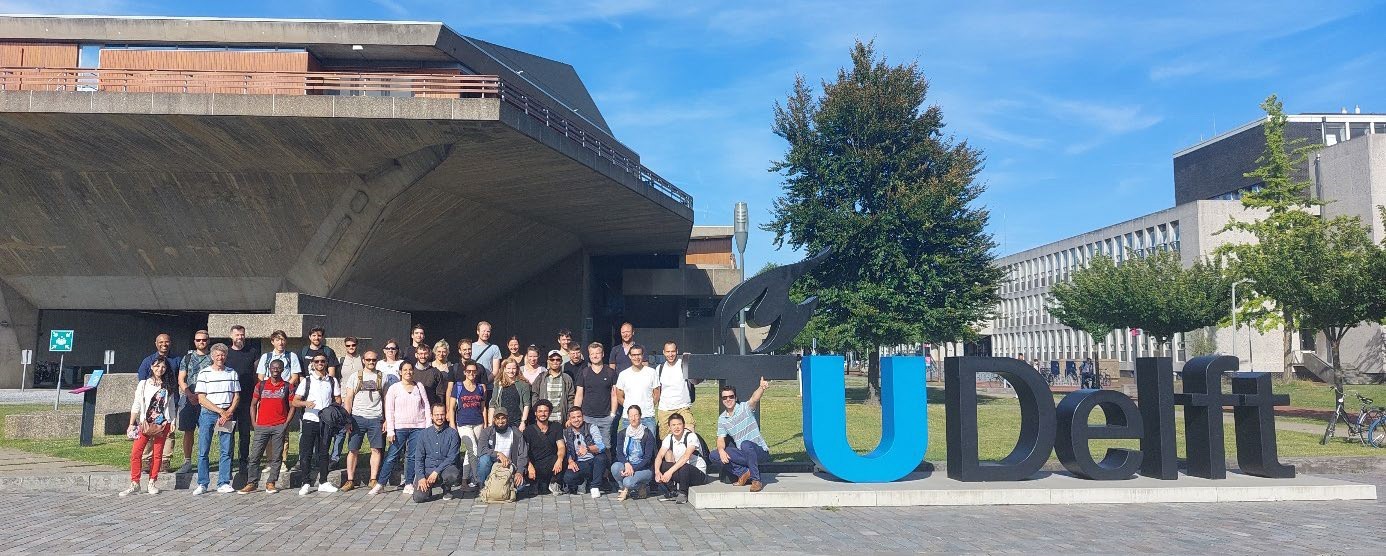 Date and time of the workshop: 11-15 July 2022, (CEST)
Location: Delft University of Technology, Delft The Netherlands

About the Summer school
In July 2022, 27 PhD candidates an 14 lecturers from across Europe gather in Delft for the yearly COST- action summer school. The learning activities of this summer school were focused around a group assignment in which the participants designed a renewable heating/cooling system including heat storage components with fellow participants. These assignments were real cases from practice provided by industry partners. During the week the participants were provided with background information on geothermal and heat storage and distribution technologies via short lectures by key experts.
There was a focus on how to store and reuse heat, due to the large fluctuations in heat supply and demand.

Excursions
Next to lectures and applying this knowledge in the assignment, there were three excursions to operational geothermal systems (borehole heat exchangers, aquifer thermal energy storage, deep geothermal) and the Dutch wells and drilling research facility. The participants also exchanged expertise/work via various session in which participants share their own work.


Program outline

1. Monday: "Introductions and setting the scene"
· Level background and set the scene.

· participants presentations on own work (see instructions below)

· BHE/Energy pile + ATES System
2. Tuesday: "first lectures and introduction to your assignment"
· Build your project assignment outline and instruction

· Detailed technology introductions: Geothermal heat direct use & other sources of renewable heat, DHN & 5th gen. DHN , Mine + tank + pit storage, (HT)-ATES, Chemical / WQ issues (operational/impact)

· Work on assignment (collect data, select technologies / concept)

· Off-campus field trip: Geothermal energy system (Bike)
3. Wednesday: "detailed technologies and concept select for your assignment"
· Detailed technology introductions: Conversion: Heat pump, BHE, Geo energy structures, Legal aspects, Reservoir storage

· Work on assignment (sizing of components, modes of operation)

· participants presentations on own work (see instructions below)
4. Thursday: "Societal and financial aspects of your design"
· Workshop: business case / financial analysis (industry workshop)

· Work on assignment with experts (financial and emissions)

· Off-campus field trip: Rijswijk Well Research Centre (Bike)
5. Friday: "Finalize assignments and group presentations"
· Work on project (finalize design and prepare presentation)

· Final presentations session
Host / Organisation
Delft University of Technology is one of the oldest universities of the Netherlands, and ranks among the best university in the world. Within Delft University of Technology the expertise is present to cover all aspects needed for the heat transition. The Summer school was organised by the Geothermal theme coordinators of the TU Delft: Phil Vardon, David Bruhn, Alexandros Daniilidis and Martin Bloemendal
Lessons learned
The third Geothermal-DHC summer school raised a huge interest among young researchers involved in either geothermal energy or district heating and cooling in Europe. The application procedure started in March 2022 with a pre-registration leading to more than 60 expressions of interest. The second stage application required a motivation letter, the background description including a CV as well as the proposal for a student project during the summer school. In total 27 students were selected out of 35 applications. The participants also included one PhD student from the United States who attended the training school on own costs.
It turned out the mixture of lectures, field trips and group work related micro projects executed during the 5 days of the training school was very much appreciated by the students. However, the fourth and final training school will be reduced to 3 days for budget reasons.
Material
The material provided and elaborated during the summer school 2022 is only available at the internal section of the Geothermal-DHC web portal. For more information how to become a Geothermal-DHC member, please visit https://www.geothermal-dhc.eu/JoinIn.
For internal purposes, all materials can be downloaded via the following link

Impressions from the Geothermal-DHC 2022 Summer School in Delft